News Release: The 2021 A.C.E. Award Winners Have Been Announced!
The 2021 A.C.E. award winners were announced recently at our ninth annual A.C.E. awards gala. Congratulations to these superstars of our industry that represent Apartment Community Excellence. Although we had many very deserving nominees, only one could be chosen for each category. All nominees should be proud of their many accomplishments this year.
*This year's entries were judged by a panel of industry experts outside of the state of Florida. No NCFAA Board member or staff served as a judge. Our judges read and carefully evaluated each entry. All winners were chosen solely by the information included on the nomination form and supporting documentation. Nominees were only allowed one submission per category.*
Thank you to all of the nominees and everyone that attended and supported this event.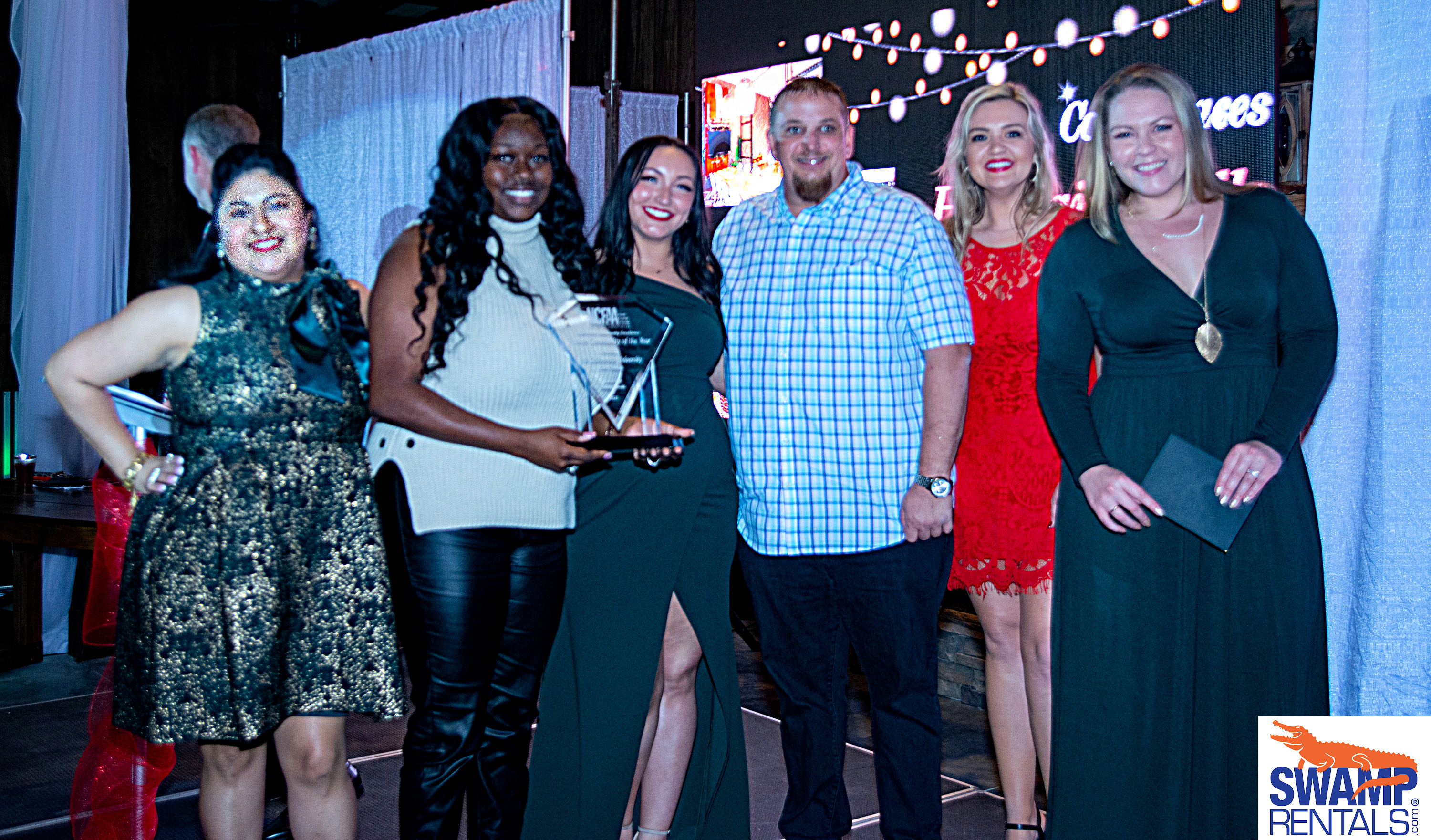 The Hub Lifestyle elevates residential living by offering opportunities for entertainment, socialization, and personal growth. Their on-site events and services provide residents with a myriad of ways to have fun, blossom as students, and build relationships that last a lifetime.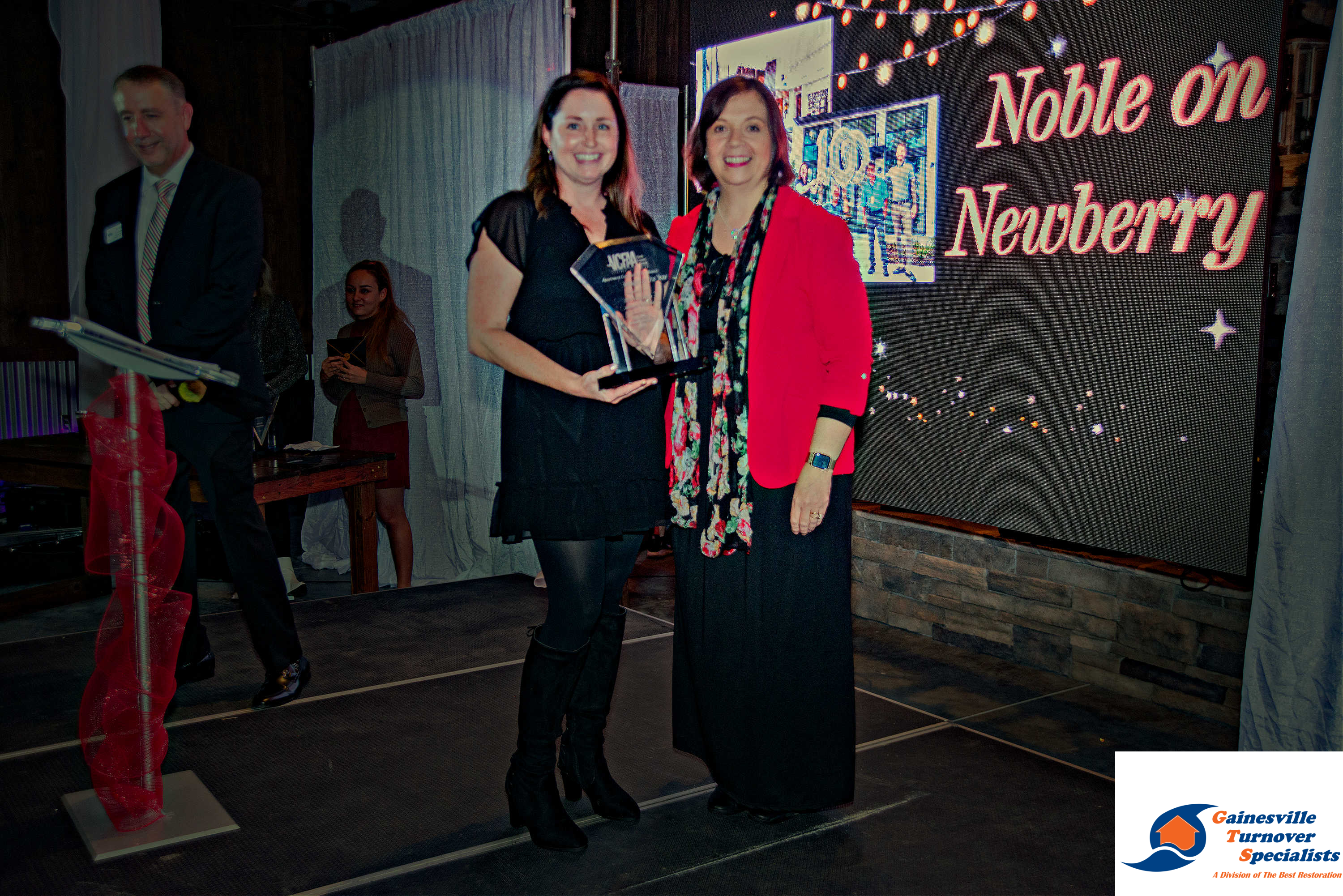 5 Star reviews from this community's residents describe it as a "NOBLE" choice. The outstanding Noble on Newberry team worked diligently to lease-up their new community in just 6-months! Overcoming many months of being understaffed, picking up the slack when vendors were understaffed, and seamlessly managing construction delays so that residents were minimally affected.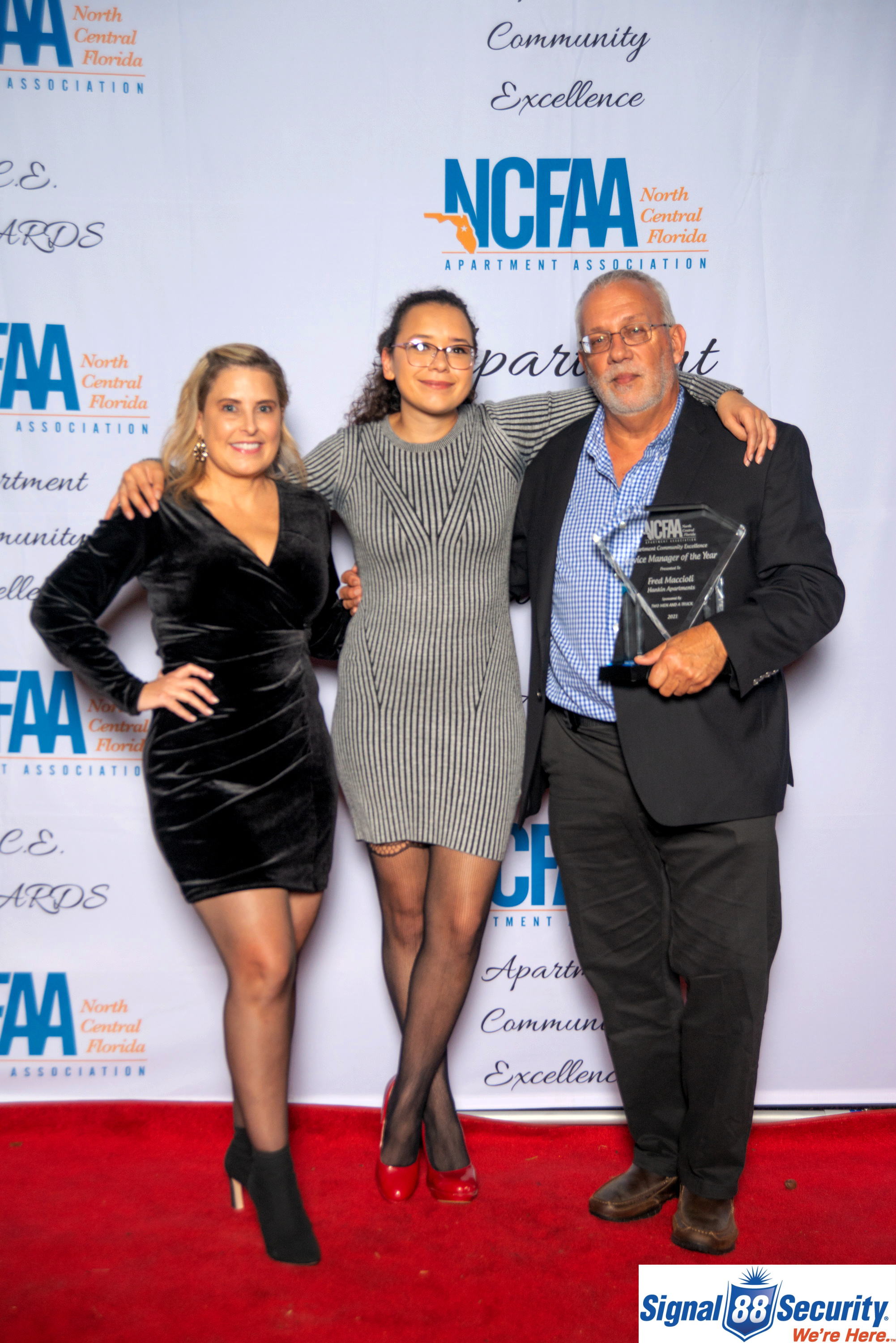 This conventional community was described by a residents as, "immaculate inside and out." When asked what sets their community apart, the team shared that it is the culmination of inspiring leadership, strong dedicated team members, a focus on culture and comradery, paired with a desire to continue to elevate the level of service and dedication to our residents, and to our community.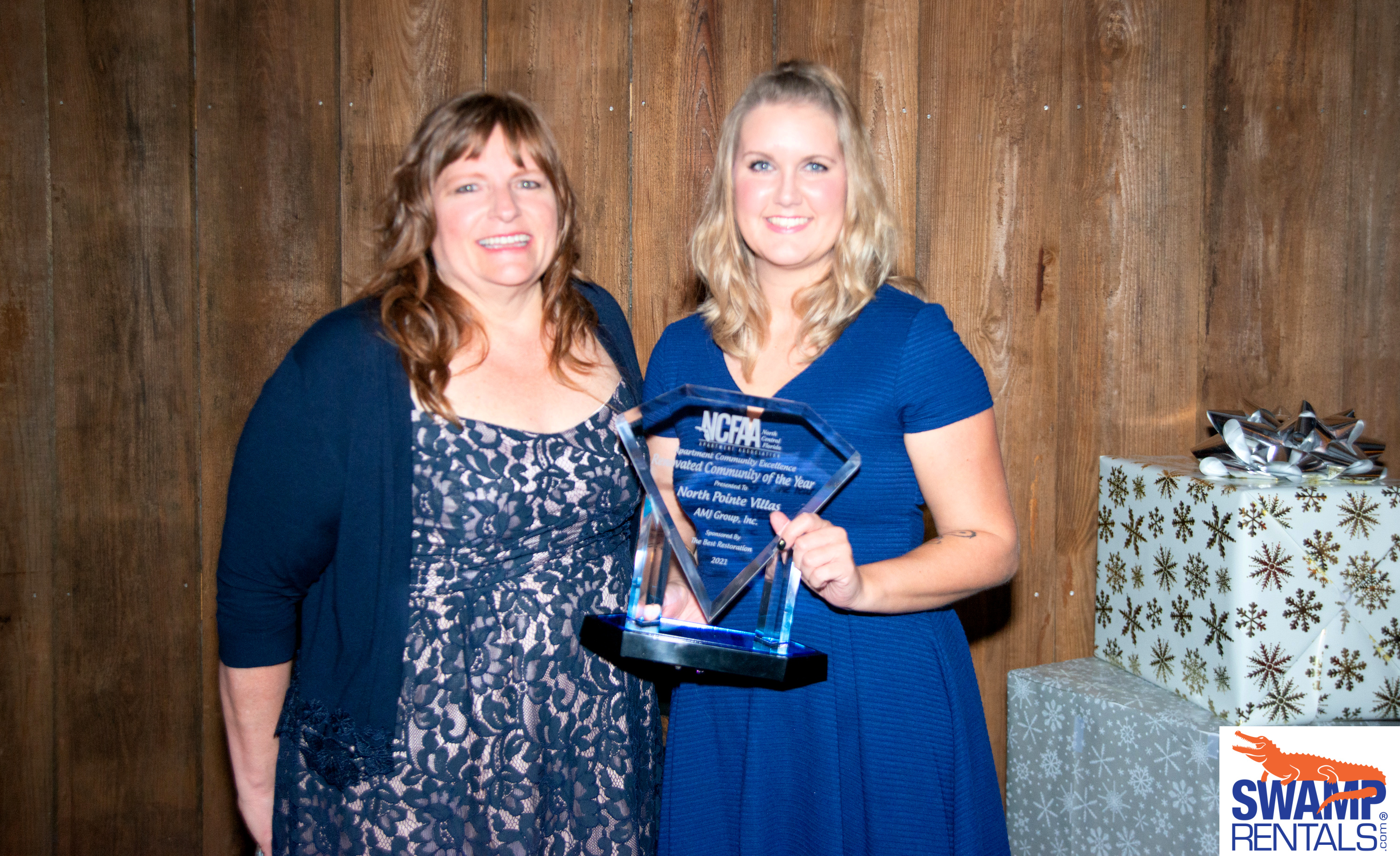 AMJ has truly transformed the face of North Pointe Villas from outdated drab to elegant modern chic. They shared that none of this would be possible without all the tremendous hard work of their property management staff, the eagerness of the new owners, and the skills of supplier members within North Central Florida Apartment industry.
The 2021 A.C.E. award inaugural winner for the

The Best Restoration

"Service Team of the Year" is..... Highlands at Heathbrook Apartments Ocala, FL of The Collier Companies!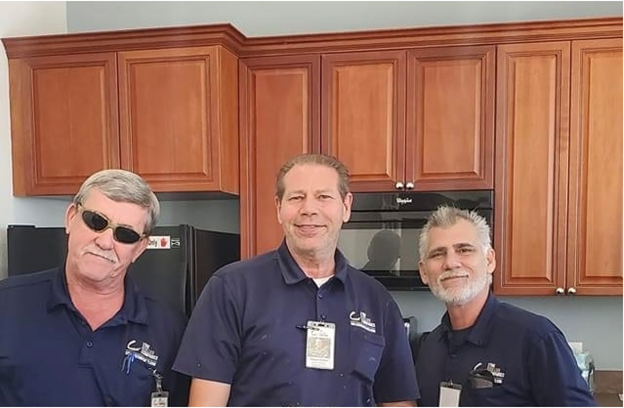 Described as caring and thoughtful leaders who strive for residents to love their home, the HH Team has over 28 years' experience in community maintenance, and it shows in their online reviews, their success, and in their residents' hearts.
The 2021 A.C.E. award winner for the "Corporate Support Staff Person of the Year" is....Donna Reul of AMJ Group Inc.!

Donna is involved in nearly everything that occurs at AMJ Group in some capacity, from overseeing numerous accounts to training new staff members and boosting morale. Donna is always up for a challenge and is constantly strives to be part of the solution. Her passion for a job well-done comes through in her meticulous work and her energetic outlook.
The 2021 A.C.E. award winner for the GTS Services "Property Manager of the Year" is.....Robert Mossorofo of Landmark Properties - Corporate!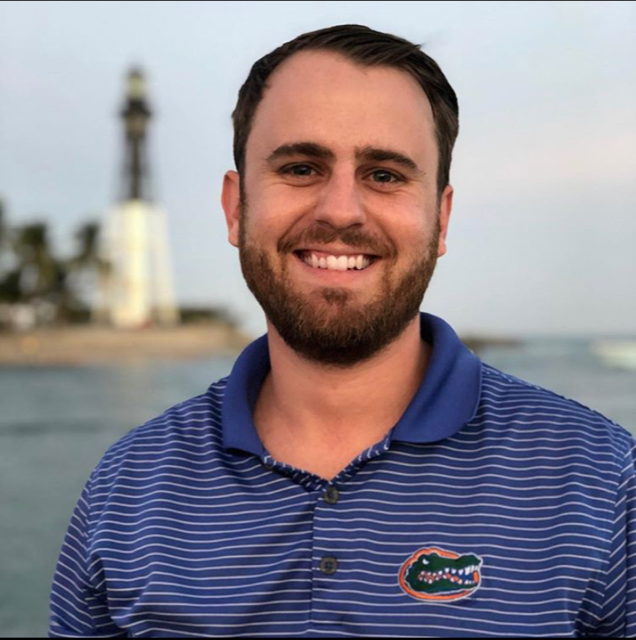 Robert is described as a caring, compassionate and thoughtful leader who gets the most out of his team members. In addition to being loved by his peers and staff, he simply gets results. Under Robert's management, each property he has worked at has leased up at a high level this past year, retained a high number of its residents and excelled in customer service.
The 2021 A.C.E. award winner for the Signal 88 Security of Gainesville, FL "Assistant Manager of the Year" is..... Miranda Morales of AMJ Group Inc.!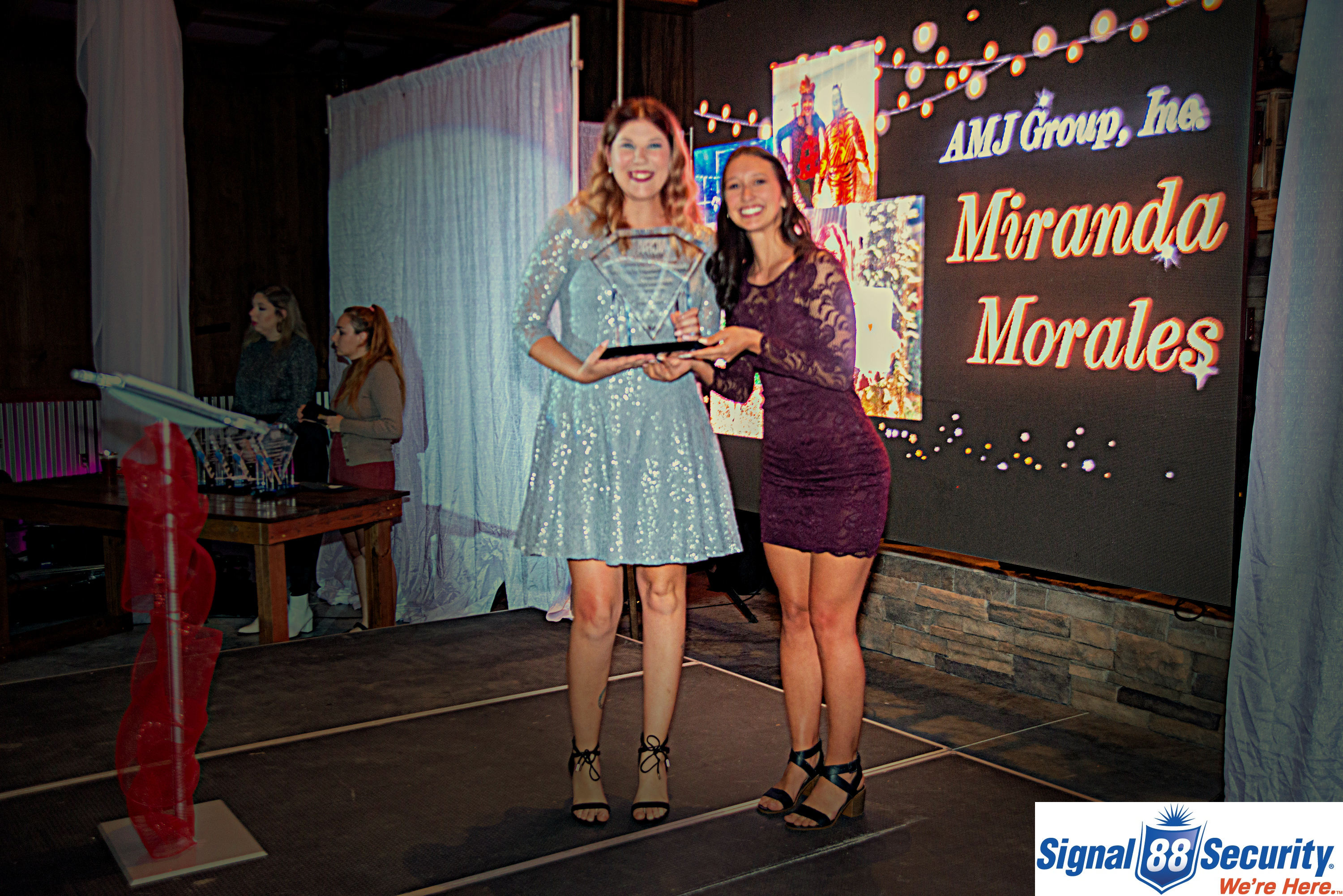 From her first day, Miranda immediately earned the trust of residents and co-workers through her positive attitude and her motivation to make sure that the property was in the best position possible. Alice from 1908G described Miranda as bright and friendly, with a likeable personality, and mentioned that her mannerisms and attire are A-One.
The 2021 A.C.E. award winner for the "Service Manager of the Year" is......Fred Maccioli of Flats at Tioga Town Center of Hankin Apartments!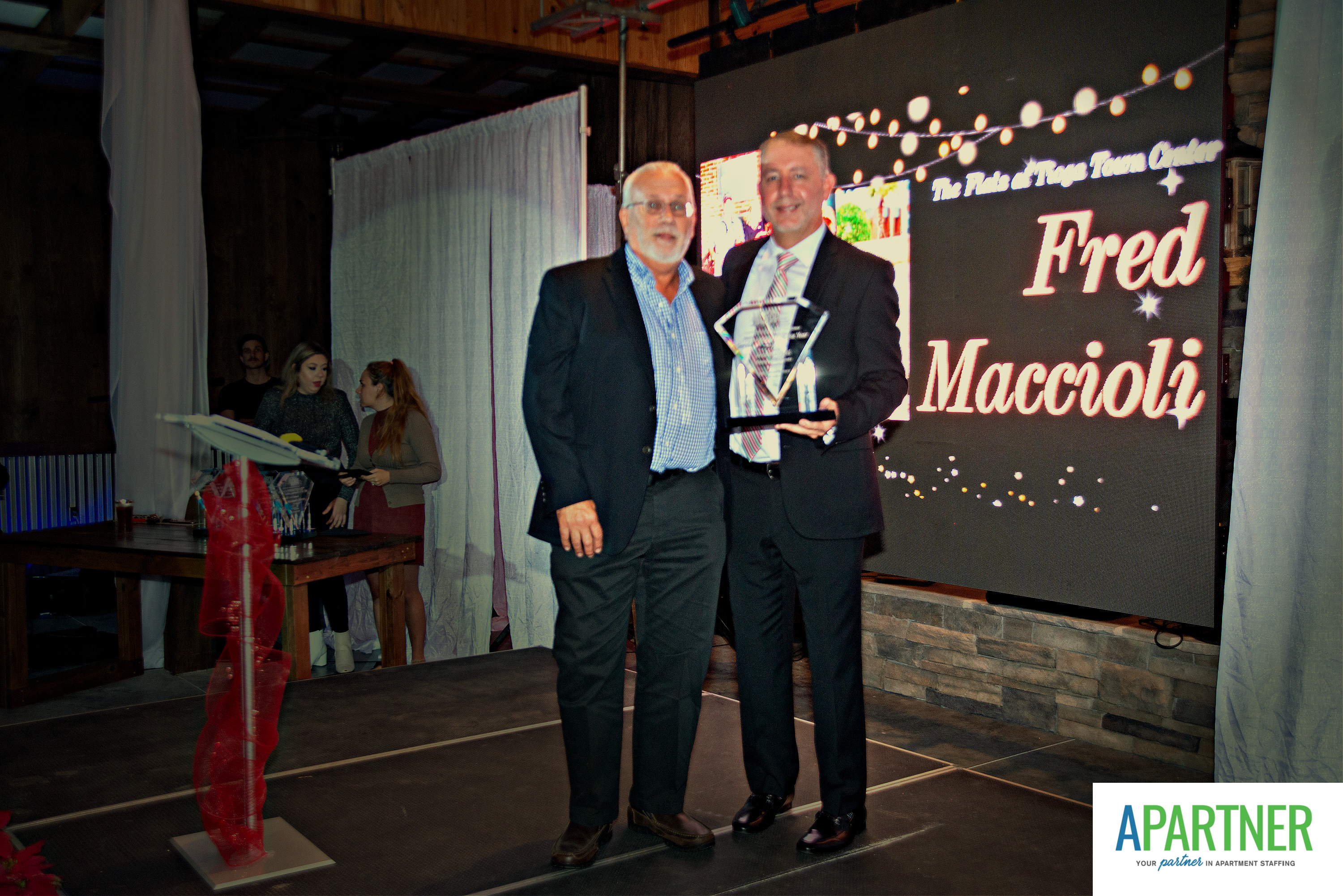 Fred Maccioli makes it his main focus to "wow" every resident that moves in. He understands the importance of great customer service and continues to put residents first and make sure their living experience is top notch. Residents say he is a big reason why they love living at the Flats at Tioga.
The 2021 A.C.E. award winner for the " Merle Amundson Honorary Supplier of the Year" is… Anyse Medwedeff Hardoin of Two Men And A Truck of Gainesville Florida!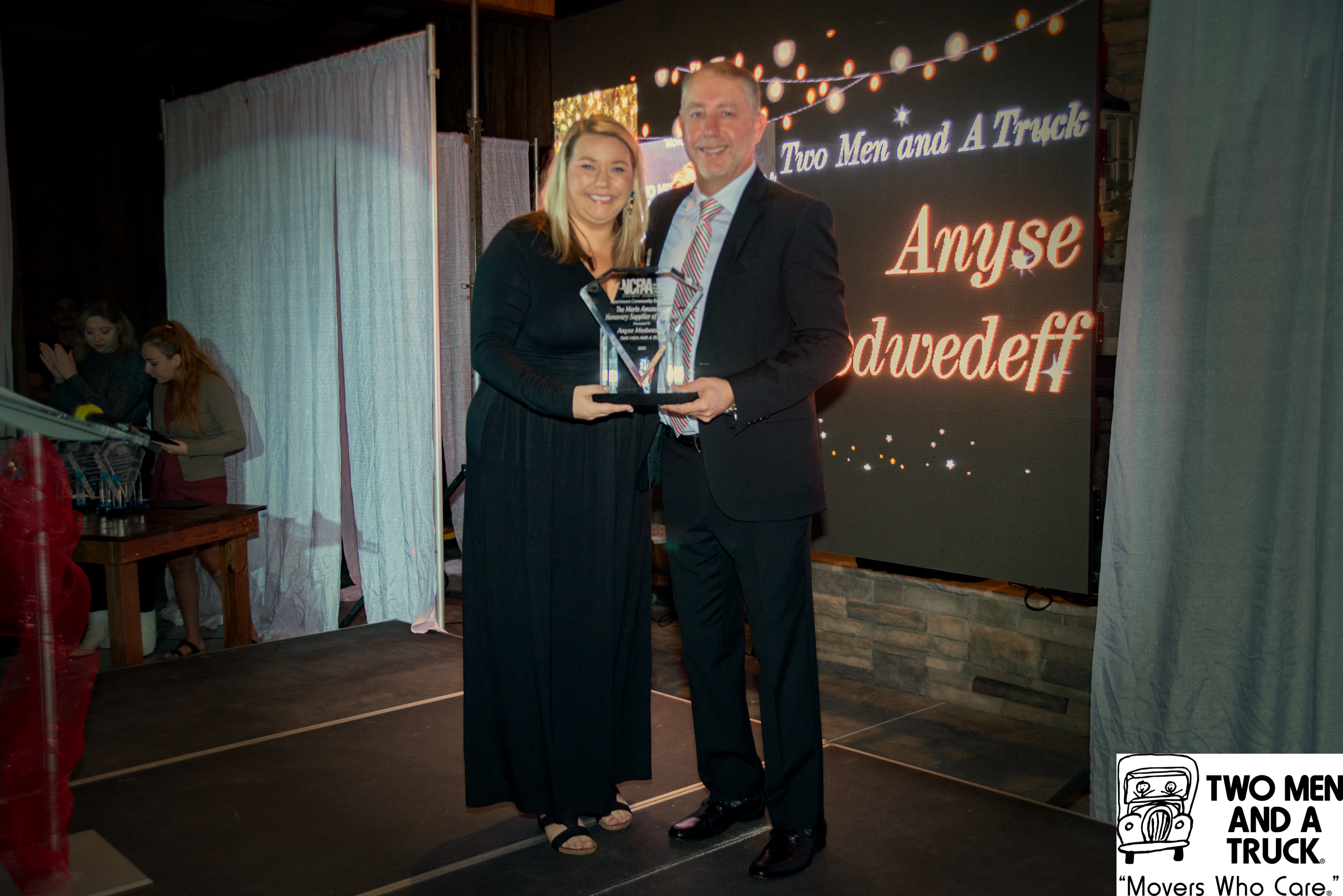 This past year, Anyse celebrated her 10-year anniversary with Two Men and a Truck! Over the years, under her leadership and direction, the franchise has grown in revenue, her team members have accelerated and been promoted regularly into new management positions of their own, and she has maintained an above average system goal of a 97% referral rating. 
The 2021 A.C.E. award winner for the Signal 88 Security of Gainesville, FL "Leasing Professional of the Year" is.....Danielle Morten of The Collier Companies!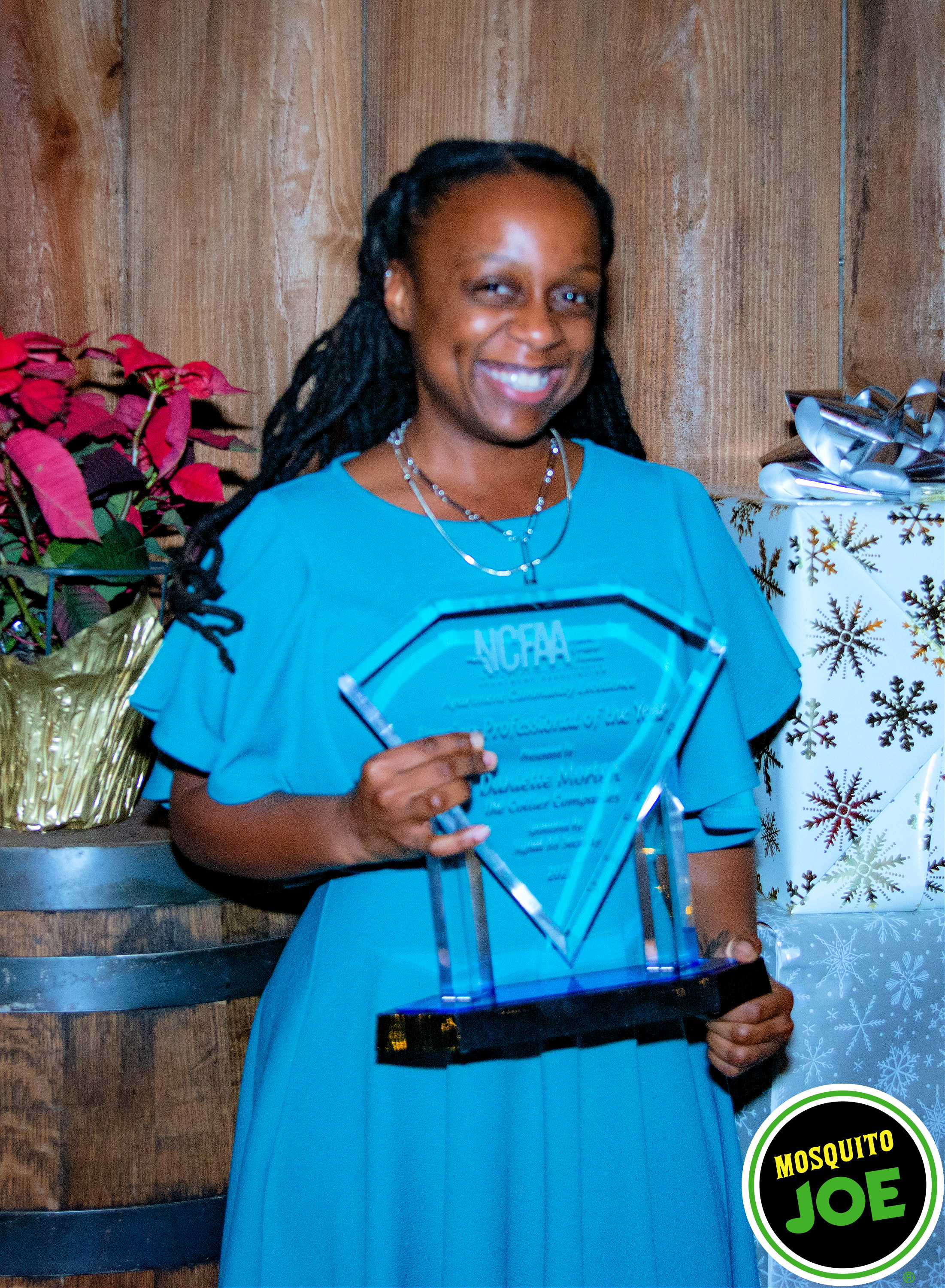 Danielle continues to work to improve not only her own performance but has also been instrumental in the training and development of several of her peers. She has served as a mentor to new incoming leasing professionals to create a foundation for their success. She even developed a leasing professional training checklist that is used throughout The Collier Companies portfolio as a guide for new team members!
The 2021 A.C.E. award winner for the The Best Restoration "Service Professional of the Year" is..... Adam Shrader of AMJ Group Inc.!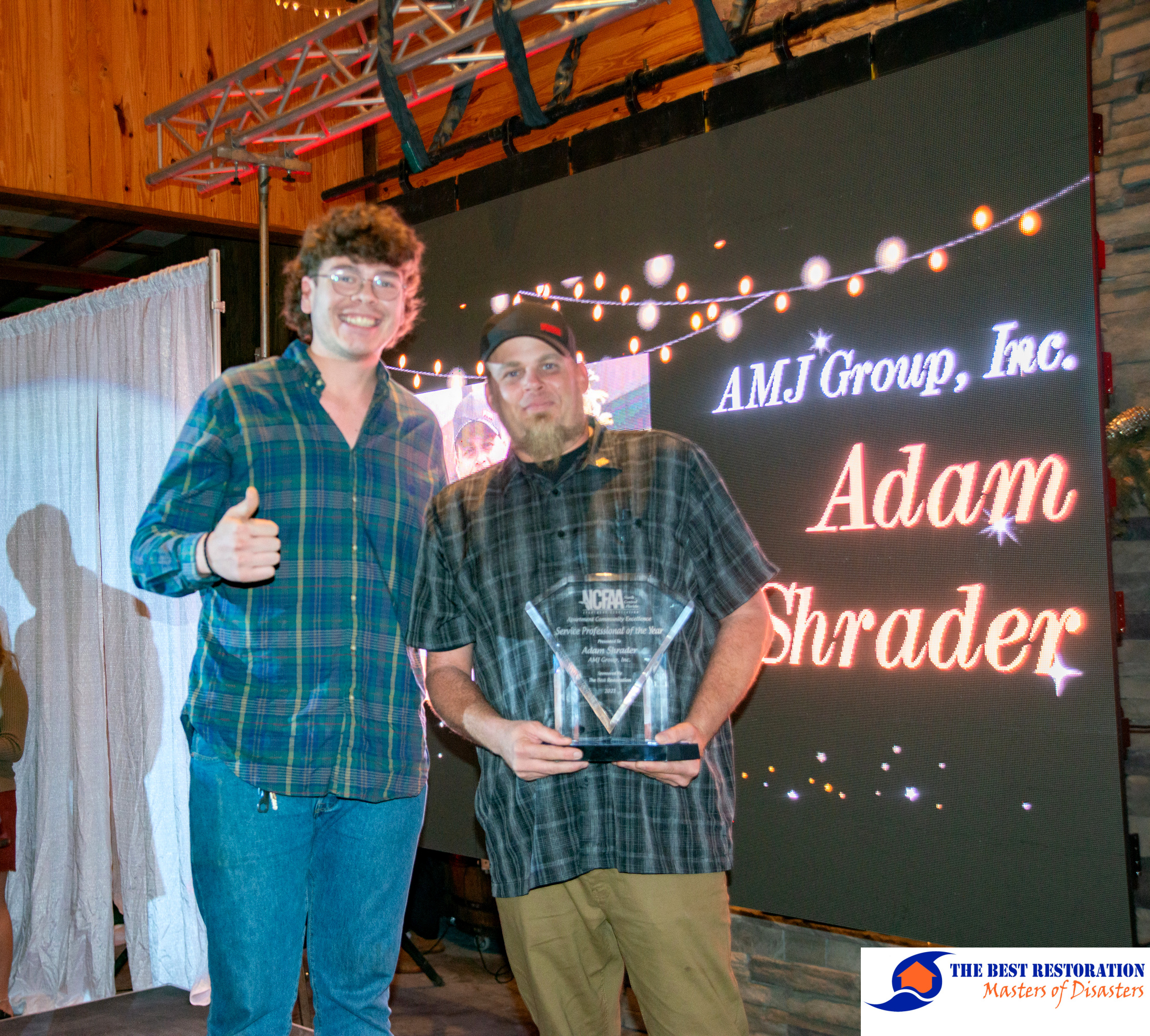 Adam has a phenomenal rapport with his coworkers, he takes pride in his work, and you see this radiate through him to the clients he serves. With a track record of response times that are 24hrs or less with no need for return, it is Adams driving goal to ensure facilities are functioning properly, safely, and efficiently for every account with AMJ.
In addition to announcing our A.C.E. award winners, we also recognized Olivia Blitchington of SwampRentals as our "Supplier Volunteer of the Year"!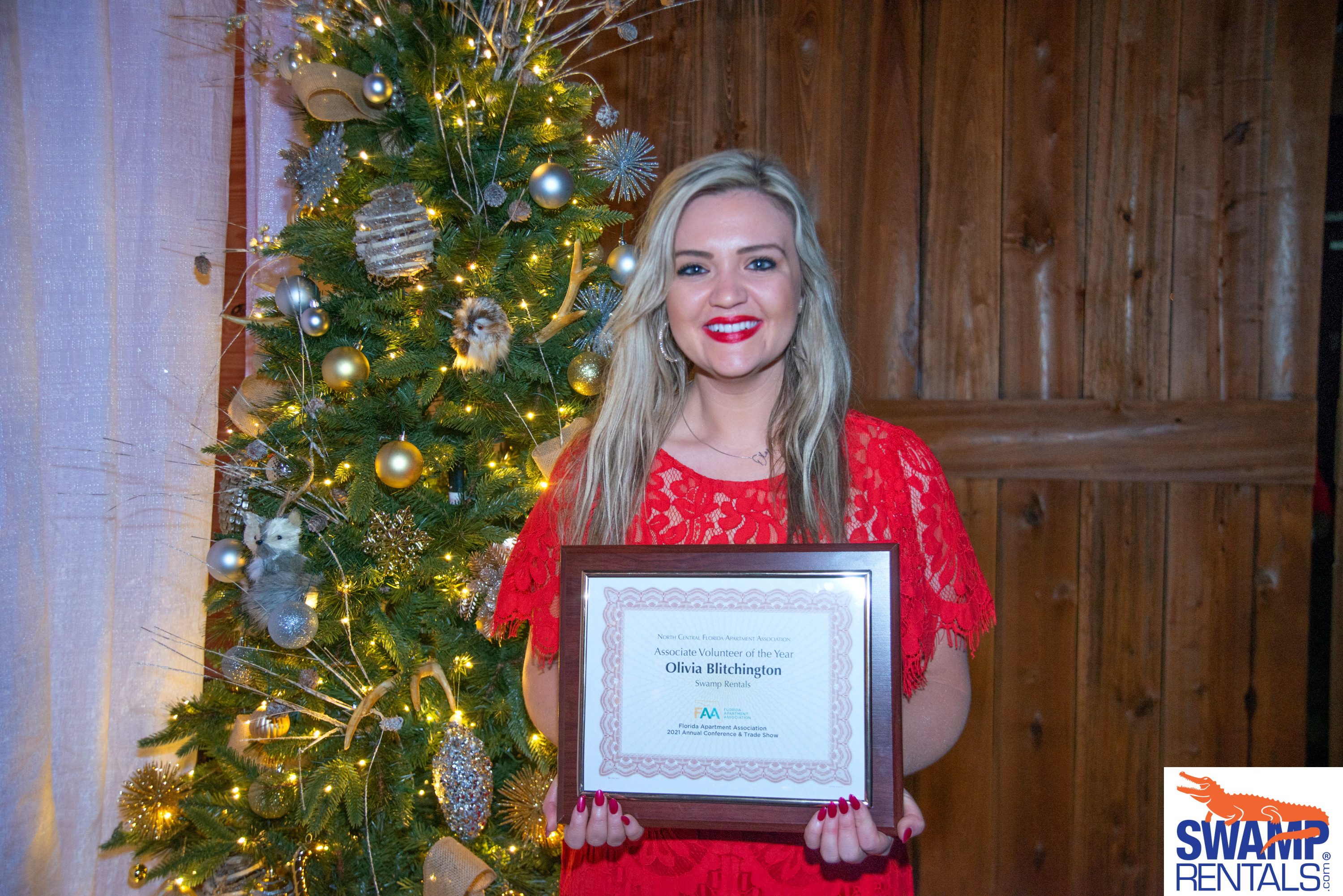 Olivia epitomizes what it means to serve. Her positive attitude and tireless efforts have been instrumental to the success of NCFAA during this past year. Congratulations Olivia!
And Robert Mossorofo of Landmark Properties as our "Community Volunteer of the Year"!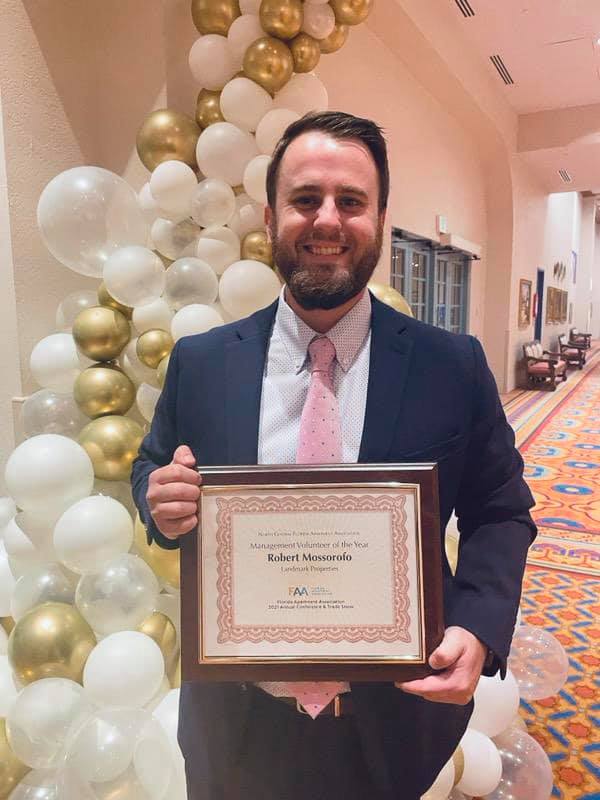 Please help us thank our event sponsors for their support and for making this event possible:
Diamond Sponsor – The Best Restoration
Ruby Sponsor – Signal 88 Security of Gainesville, FL
Emerald Sponsors – Two Men And A Truck of Gainesville Florida,
Mosquito Joe, SwampRentals, First Place Fitness Equipment, Apartner