Professional Designations
Further your career and success with NCFAA!
NCFAA offers several designation and certification options through the NAAEI. Click on each designation or certification below to learn more about the respective program. For a list of upcoming classes, visit our upcoming classes calendar.
---
Designations:
Certifications:
---
Certified Apartment Manager (CAM)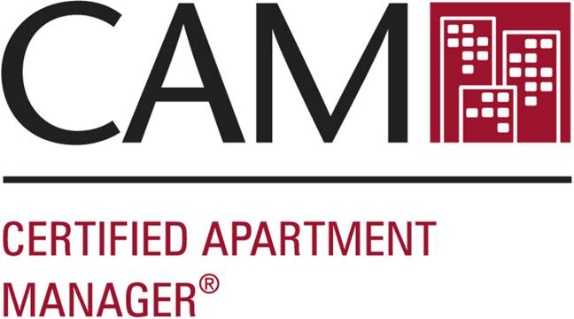 The Certified Apartment Manager (CAM) Program provides an opportunity for you to gain valuable knowledge and experience as a recognized leader in the apartment industry. This course will help you improve your job performance with a combination of in-class activities, home assignments and assessments. An increasing number of owners and management companies are seeking NAA-designated CAM's to fill their leadership positions. Earning your CAM allows you to demonstrate your skills, knowledge, and ability to manage an apartment community and achieve owners' investment goals.
You'll learn about:
Occupancy rates

Comprehensive marketing plans
Sales team management and product readiness
Equitable treatment of current and potential residents
Resident retention and the maintenance of a positive company image
Consistent and ongoing resident communication
Positive resident service and issue resolution
Enforcement of company policy in compliance with laws and regulations
Property inspections
Preventive maintenance programs
Service request process
Apartment turnover process
Contractors and vendors
Recruitment, hiring, orientation, and training of high-caliber employees
Systematic employee evaluation
Employment regulations and record keeping
Analysis of the property's financial operations with corrective actions for underperformance
Monitoring of property performance to achieve the owner's investment goals
Accounting principles and practices
Maximizing net operating income
Reporting property performance honestly and accurately
---
Certificate for Apartment Maintenance Technicians (CAMT)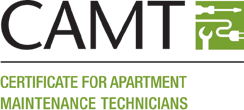 The Certified Apartment Maintenance Technician (CAMT) Program is a course designed as an introduction for new maintenance professionals or as a refresher for more experienced technicians. The course is divided into two sections – two non-technical courses consisting of online learning and five technical courses consisting of hands-on classroom training. The CAMT offers the latest material and information that will help you excel in maintaining an effective maintenance program.
You'll learn about:
Processing work orders correctly,

timely, and to residents' satisfaction
Electrical services and repairs
Plumbing services and repairs
HVAC services and repairs
Painting services
Construction services and repairs
Mechanical services and repairs
Appliance services and repairs
Lock and key services and repairs
Customer service and performing maintenance tasks according to company policy and procedures
Minimizing personal and property damage while safely performing maintenance activities
Fair housing regulation compliance
Environmental responsibility and regulatory compliance
Reporting and documentation of maintenance activities in compliance with company policy and regulation
Curb appeal, property inspection, and daily maintenance
Established procedures for maintaining recreational facilities and common areas
Implementation of a preventive maintenance schedule
Product repair and replacement decisions
Professional behavior patterns, communication skills, and appearance
Clear and respectful communication with residents, team members, and contractors
---
National Apartment Leasing Professional (NALP)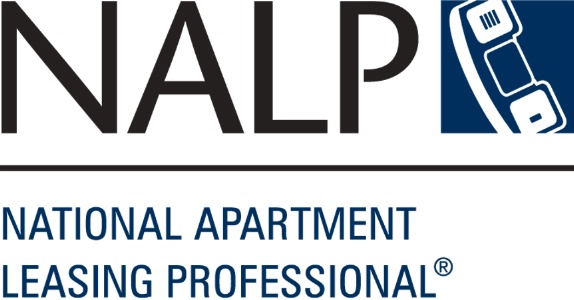 The National Apartment Leasing Professional (NALP) Program provides an opportunity for you to learn valuable knowledge and experience to be an apartment leasing professional. This course was designed to teach you the skills necessary to become top leasing producers. Earning your NALP designation demonstrates to apartment communities that you are serious about your leasing career and performance.
You'll learn about:
Using technology to generate

traffic
Monitoring and managing your community's reputation
Inspecting the leasing center, tour route, model units, and vacant apartments
Shopping the competition while building relationships with competitors
Compiling a comprehensive community resource tool
Effective marketing plans
Relationship sales process and evaluating personal sales performance
Evaluating a prospect's commitment level and overcoming objections
Reviewing the next steps in the sales process with prospects
Applying fair housing law and communicating rental criteria
Qualifying prospective residents according to rental policy
Preparing and reviewing leases with new residents
Move-in process
Responding to resident issues and maintenance requests with appropriate follow-up
Building relationships with residents and creating a sense of community
Reporting incidents, maintaining documentation, and taking corrective action
Maximizing revenue and operational efficiency
Securing and processing lease renewals
Conducting a market survey
---
Certified Apartment Portfolio Supervisor (CAPS)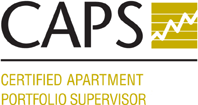 The Certified Apartment Porfolio Supervisor (CAPS) Program is an in-depth review of property management principles and techniques as used by the professional supervisor. The course helps the professional make the connection between knowledge and on-the-job performance. Training is divided into five, eight-hour courses. Let the CAPS program help you stand out in an extremely challenging environment. The CAPS designation provides professional credibility, industry recognition and personal growth and development. Earning your CAPS takes you to the next level in property management.
You'll learn about:
Recruiting high-performing

employees
Employee performance, engagement, and retention
Minimizing conflict through stakeholder communications
Ethical behavior and conflicts of interest
Annual operating budgets and owner performance objectives
Property and portfolio results
Due diligence process
Property takeover process
Capital improvement plans
Managing risk through inspections, follow-up procedures, and incident reporting compliance
Minimizing legal risk and liability
Regulatory agency oversight of assisted housing
Analyzing property performance data to inform action
Management agreements
Evaluating and reporting property performance using key performance indicators
---
Certified Apartment Supplier (CAS)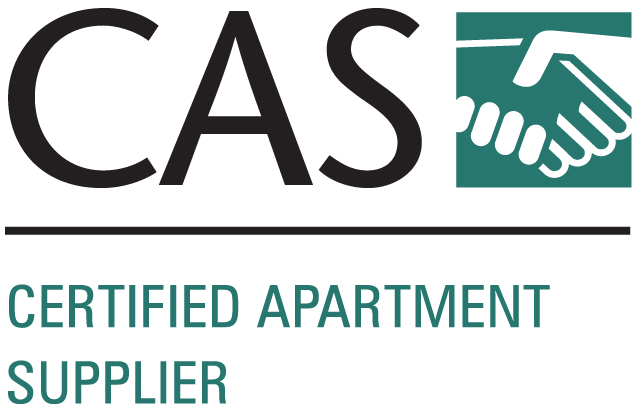 The Certified Apartment Supplier (CAS) Program is an opportunity for suppliers to understand the everyday challenges faced by the apartment managers and the properties they oversee. This course is ideal for both new and experienced vendors. CAS isn't just a title – it's training that helps you better meet the needs of the apartment communities you serve. Earning CAS allows you to network with your peers from other companies, learn about the benefits and activities your local apartment association offers, and engage in apartment association meetings and events.
You'll learn about:
Applicant screening, leasing contracts,

and move-ins

Rent collection, lease renewal, the move-out process, lease termination, and eviction
Property management systems and their functions
How community managers create avpositive fair housing environment
Minimizing risk through inspections, preventative maintenance, safety programs, and documentation
Addressing property and environmental hazards and crime
Analyzing property financial operations and underperformance
Monitoring property performance to achieve an owner's investment goals
Maximizing net operating income
---
Certified Pool Operator (CPO)
The Certified Pool Operator (CPO) Program is the most accomplished aquatics educational course and is widely accepted by health officials. The course will teach valuable information on such topics as water testing and evaluation, treatment, filtration, maintenance and solving daily operating problems. Florida Code requires certification, particularly for management company and property team members.
Benefits Include:
Proven Education for a Broad Understanding of Pool Care and Management
All Courses are Taught by NSPF® Certified Instructors
Widely Accepted and Recognized by National, State and Local Authorities
Covers Local and State Codes
Comprehensive Handbook
Certification is Valid for Five Years
---
Environmental Protection Agency (EPA) Technician Certification
The United States Environmental Protection Agency (EPA) has established a mandatory program that requires all technicians to be certified before performing maintenance, service, repair, or disposal of an appliance that contains refrigerant chemicals.
Types of EPA Certifications
Type I - for servicing small appliances
Type II - for servicing high and very high pressure appliances
Type III - for servicing low pressure appliances
Universal - for servicing all appliances

To obtain certification, technicians must pass a closed-book proctored test which contains 25 questions about EPA regulations, and 25 questions on recycling procedures in the area in which they work. They may choose to test in only one area, or they may choose to test in more than one area, or they may choose to take the universal test which consists of 100 questions: 25 general and 75 sector-specific (25 from each sector of Type I, Type II and Type III). The minimum passing score is 70%.
---
The above content was adapted from the NAA Course Catalog and ACC Tech (EPA).