APAC: Investing in Our Future
The Florida Apartment Association Political Committee
About APAC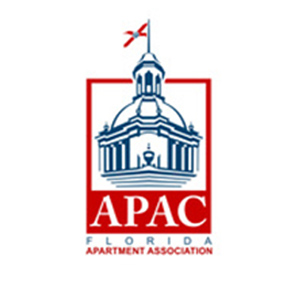 The purpose of APAC is simple: to raise funds and elect candidates who understand and support your issues and interests in the industry. Since 1971, APAC has helped the Florida Apartment Association support both local and state government level candidates, both republican and democrat.
Apartment owners must be able to continue to provide safe and affordable rental housing to residents. There are special interest groups spending millions and lobbying for their own agendas. In order to protect ourselves from these groups who are lobbying for things like requiring leasing consultants to hold a real estate license, new inspection fees, and costly mandates, we must take action.
In order to serve residents effectively, efficiently and profitably, APAC, our voice, must have the financial support to get us there. Your voluntary contributions to APAC enable FAA to advocate for you in Tallahassee. During the last elections, 98% of APAC supported candidates were elected in Florida!
Consider an APAC contribution a contribution to success and business insurance. You are making an investment to ensure the election of candidates who will protect our industry and day-to-day operations. Your freedom to do business depends on the ability to advocate for you!
2016 APAC Goals
Expanding the types of repairs maintenance professionals may perform.
Stopping criminal penalties for apartment employees who violate the Landlord-Tenant Act.
Ensuring all residents in Florida carry renter's insurance
Advocating for full funding of the Sadowski Affordable Housing Trust Fund
Why do you give to APAC?
"I give to APAC because the money we raise gives us an avenue to our elected officials. If we're not getting in front of those folks and telling our story, somebody else is telling theirs in our place. We as property management people need to be in front of those folks telling them our concerns and challenges on a daily basis and how the laws they're going to make affect our everyday operation."
Lee Ann Poole
Property Manager
Somerset Apartments
Invest in APAC
To invest in APAC, visit the FAA APAC Contribution site.