Back to Events
Event Details
The NCFAA Presents.....
Our 2018 Annual Trade Show

"The Most Wonderful

Time of the Year!"

(A Holiday Season, Summer Reboot)
Trade Show Seasons Greetings!
As it relates to parking, please

park in any space that is open (obey all parking signs) as long as it is 3:30 pm or later. UF lifts parking restrictions at 3:30 pm.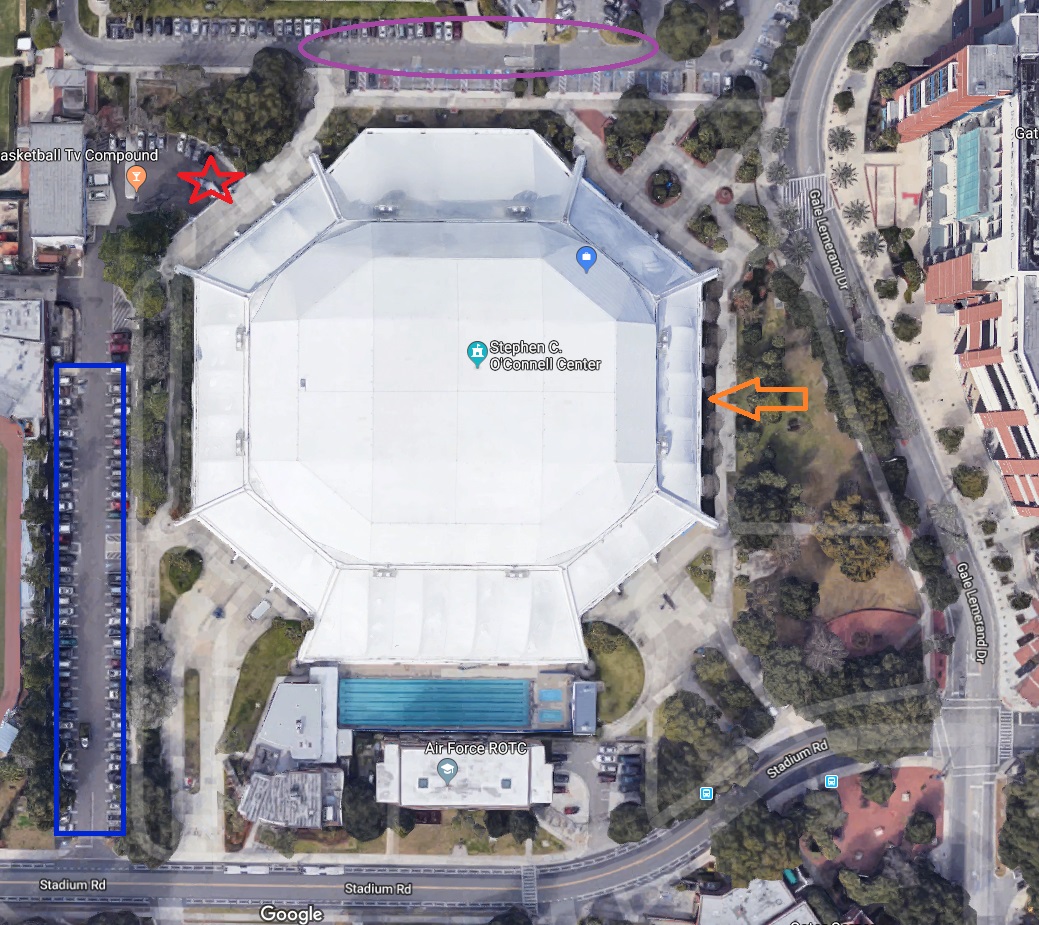 The orange arrow on the map signifies the entrance to the trade show.
How to Win Prizes "101"
at the NCFAA trade show!
Bring your business cards!
Get your event card stamped at the booths that you visit! This will allow you to select a potential prize at the NCFAA "Prize Station" and make you eligible for the "Grand Prize" drawing.
Drop

one

business card at each booth to be eligible for that booth's specific prize
*Putting more than one card or entering multiple times at any supplier booth will automatically disqualify attendee from all event prizes*
Participants must register to attend in advance to be eligible
Property management attendees: Admission is FREE!
Don your gay apparel (favorite holiday attire) or come dressed as a character from your favorite holiday movie to
increase
your chances of winning! Unwrap gifts that introduce you to products and services that
will make you jolly! It's the hap-happiest season of all!
*Cash Bar
*FREE Classes (details below)
*Holiday Photo Booth
*Presents, Gifts & Lots of Prizes!
How to Increase your Chances of Winning the Grand Prize?
Earn extra entries by completing
Come dressed in your favorite holiday attire or character from your favorite holiday movie ("Best Costume" prize awarded)
Bring a donation for our "Movers for Moms" charity drive - Items Needed
Give Blood at the Lifesouth Blood Mobile
*Participants must register to attend in advance to be eligible*
Event Location:
The O'Dome
(Exactech Arena at the O'Connell Center)
250 Gale Lemerand Drive
Gainesville, FL 32608
We are offering three FREE educational learning sessions that will all run simultaneously and prior to the start of the trade show.
Class Schedule:
Mold Remediation: 2 pm - 5:30 pm
Active Shooter & Apartment Safety Class: 3:30 pm - 5:30 pm
SOLD OUT!
Click to Register
Numbers Talk, but what are they saying? 3:30 pm - 5:30 pm
*Please note: Vendors may only attend trade show if purchasing a booth!
Wouldn't life be worth living,

wouldn't dreams be coming true.

If we kept the Christmas spirit, all the whole year through'. - Lieve groet, Judith
For More Information:
Robert Carroll (Member)
CNPR
Association Executive
NCFAA
(352)333-0333