Back to Events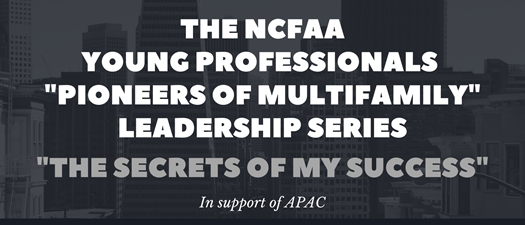 NCFAA "Pioneers of Multifamily" Leadership Series with Nathan S. Collier
In Support of APAC and Presented by the NCFAA Young Professionals
Thursday, October 29, 2020
10:00 AM - 11:00 AM (EDT)
Event Details
In Support of APAC,
The NCFAA Young Professionals Committee Present
Guest Speaker:
NATHAN S. COLLIER
Nathan S. Collier is founder and chairman of The Collier Companies, an owner, manager, and developer of multifamily housing with its home office in Gainesville, Florida, home of the state's flagship university, the University of Florida. Under The Collier Companies umbrella, Mr. Collier owns more than 50 communities and approximately 11,000 apartment homes in Gainesville, Ocala, Orlando, Tampa, Tallahassee, and other Florida locations, as well as in Norman, Oklahoma, Statesboro, and Athens, Georgia. The Collier Companies has consistently been ranked within the top 25 largest student housing owners as well as top student housing management companies in the country by Student Housing Business magazine. The Collier Companies is the largest student housing portfolio owned by a private individual.
Mr. Collier endowed the Nathan S. Collier Master of Science in Real Estate program at University of Florida's Warrington College of Business Administration, where he teaches a real estate case studies course. He is lead author of "Construction Funding: The Process of Real Estate Development, Appraisal, and Finance," published by John Wiley & Sons, now in its 4th edition and published in Chinese and Korean. Mr. Collier has written over 1200+ posts related to personal development, leadership and real estate as well as published a compilation of his blogs in an E-book entitled "99 Thoughts to Help You Fill Your Life Management Tool Box" and Life-Long Learning, Self-Awareness and Self-Improvement.
Collier is a member of the University of Florida Foundation, Gator Boosters, Inc. and the National Multi-Housing Council, where he served as founding chair of the Student Housing Committee. He is on the board of UF's Bergstrom Center for Real Estate Studies, he is a member of Urban Land Institute, and is active in the Young Presidents' Organization. Collier has twice served as commencement speaker for the University of Florida Warrington School of Business Collier also serves as a member of Columbia University's Columbia Journalism Review Board of Overseers.
A member of the Florida Bar and licensed in Florida as a real estate broker, a CPA, and a building contractor, Mr. Collier earned a bachelor's degree in finance from the University of Florida in 1974 and an MBA in 1978. He passed the CPA exam on the first sitting, scoring among the top 10 in that sitting in Florida. In 1982 he received a JD from the University of Florida after scoring in the top 3% on the LSAT. Collier is a member of Harvard Business School's OPM 25 class. A generous supporter of the arts, Collier has made a $1,000,000 matching pledge to Gainesville's Hippodrome State and a quarter of a million matching pledge to Dance Alive National Ballet Company.
Mr. Collier, in conjunction with the University of Florida College of Journalism, has funded the Collier Prize for State Government Accountability at the University of Florida https://www.jou.ufl.edu/collier-prize-for-state-government-accountability/collier-prize-about/ which will be presented annually at the White House Correspondents' Association dinner. The $25,000 prize, named after Mr. Collier's great grand uncle, Peter Fenelon Collier, founder of Collier's Weekly; is to be awarded annually to the best investigative journalism at the state house level.
Event Sponsor:


For More Information:
Olivia Blitchington
Director of Strategic Partnerships
Swamp Rentals
(904)349-5908

Having trouble logging into your member account? Contact us at robert@ncfaa.net. We can help!
Upon completion of your NCFAA registration, you will receive an additional Zoom email registration link. The purpose is to add an additional safety measure to ensure that our virtual events stay safe & secure for our members!
Please feel free to reach out to us with any questions!
Photo / Video Disclaimer
We reserve the right to use photographs/videos taken at any event sponsored by the association without the express written permission of those included within the photograph/video. We may use the photograph/video in publications or other media material produced, used or contracted by association including, but not limited to: social media platforms, brochures, invitations, publications, magazines, television, website, etc.
Any person that does not wish to have their photo taken or distributed must contact the association and communicate, in writing, their intentions. These requests will be accomodated; however a photopgraph must be included for identification purposes (and will be held in confidence).