Back to Events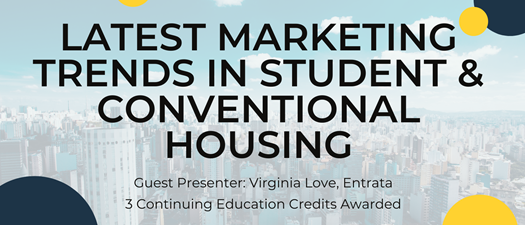 Latest Marketing Trends in Student & Conventional Housing
with Virginia Love
3 Continuing Education Credits Awarded
Thursday, April 21, 2022
Event Details
Keeping up with what's what in the world of multifamily marketing and technology can be a full-time job. With so many new and innovative solutions and programs being introduced daily, it's easy to get overwhelmed, forget the basics, and wonder what direction is worth exploring.  During this fast-paced session, attendees will be presented with the latest marketing, operations, and technology trends to consider. From simple customer-centric viewpoints to emerging marketing technologies, all trends that will be shared have the ability to move the performance needle. This session will generate new and different marketing and operating solutions as well as guide deeper conversations on how the Multi-family industry continues to change.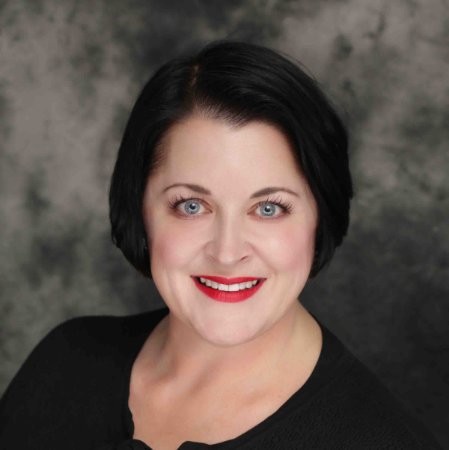 About Our Instructor:
In June of 2019, Virginia Love joined Entrata, the multifamily industry's most comprehensive technology provider as Industry Principal on the organization's executive team.  In her role at Entrata, Virginia is directly involved with marketing, product and sales as an industry liaison to advance growth and innovation strategies at Entrata.
Virginia began her multifamily career nearly 30 years ago as a leasing consultant for TCRS. Throughout the years, she advanced her career, focusing on training, marketing and operations for outstanding companies such as Summit Properties, Watermarke Companies, ING Clarion and Waterton.  She served as the 2011 Chairperson of the Atlanta Apartment Association, 2018 Chairperson of the GA Apartment Association as well as active with NAA and NMHC. 
Love has presented countless leasing, marketing and operational speaking engagements, training sessions, industry conferences and events and served on industry advisory boards including the Multifamily Social Media Summit, Zillow  and Grace Hill Advisory Boards, as well as an active Apartment All Star. In 2021, Virginia was honored to be named one of GlobeSt. Multifamily Influencers.  

Attendee Agreement
By registering and attending any NCFAA class, meeting, or event you are agreeing to our Safety Liability Agreement. As deemed necessary, additional requirements will be added below:
If you are sick, caring for an ill person, or may have recently been exposed to COVID-19 we ask that you stay home for self-quarantine. 
Wash your hands or use hand sanitizer often, especially after touching high traffic areas. 
**Communicable diseases such as COVID-19 can be highly contagious viruses that pose inherent risks that cannot be fully eliminated regardless of care or precautions taken. As such, by participating in classes, meetings, or events hosted by NCFAA in any facility you hereby assert you do so voluntarily and that by participating you knowingly assume any and all risks related to COVID-19 or other communicable diseases.
For More Information:
Robert Carroll (Member)
CNPR
Association Executive
NCFAA
(352)333-0333
Photo / Video Disclaimer:
We reserve the right to use photographs/videos taken at any event sponsored by the association without the express written permission of those included within the photograph/video. We may use the photograph/video in publications or other media material produced, used or contracted by association including, but not limited to: social media platforms, brochures, invitations, publications, magazines, television, website, etc.
Any person that does not wish to have their photo taken or distributed must contact the association and communicate, in writing, their intentions. These requests will be accomodated; however a photopgraph must be included for identification purposes (and will be held in confidence).