Back to Events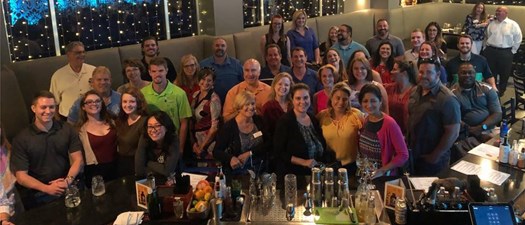 March Membership Lunch
Thursday, March 17, 2022
Event Details

We are getting the band back together as we gather in-person for our first membership lunch since 2020! Join your NCFAA peers and industry friends for lunch to network and share ideas. We look forward to seeing you there live and in-person! Please use the link above to register and save your seat.

Lunch Topic: As a property management professional, do you ever find yourself wondering, "Why did my prospect sign somewhere else?" In addition to learning closing strategies to help you seal the deal our lunchtime entertainment will include an interactive presentation from Swamp Rentals on the results of a recent University of Florida Housing Survey. Gain insight on search behavior, lease concessions, preferred amenities and more! We'll be sharing actionable data for apartment communities targeting The University of Florida audience, so you'll be able to overcome all leasing objectives that come your way.
Attendee Agreement
By registering and attending any NCFAA class, meeting, or event you are agreeing to our Safety Liability Agreement. As deemed necessary, additional requirements will be added below:
If you are sick, caring for an ill person, or may have recently been exposed to COVID-19 we ask that you stay home for self-quarantine. 
Face masks that

 

fully covers both the nose and mouth

 at all times are

 

REQUIRED.

 

We will provide one-time use masks to attendees that do not arrive with their own.
Wash your hands or use hand sanitizer often, especially after touching high traffic areas. 
**Communicable diseases such as COVID-19 can be highly contagious viruses that pose inherent risks that cannot be fully eliminated regardless of care or precautions taken. As such, by participating in classes, meetings, or events hosted by NCFAA in any facility you hereby assert you do so voluntarily and that by participating you knowingly assume any and all risks related to COVID-19 or other communicable diseases.
For More Information:
Robert Carroll (Member)
CNPR
Association Executive
NCFAA
(352)333-0333
Photo / Video Disclaimer:
We reserve the right to use photographs/videos taken at any event sponsored by the association without the express written permission of those included within the photograph/video. We may use the photograph/video in publications or other media material produced, used or contracted by association including, but not limited to: social media platforms, brochures, invitations, publications, magazines, television, website, etc.
Any person that does not wish to have their photo taken or distributed must contact the association and communicate, in writing, their intentions. These requests will be accomodated; however a photopgraph must be included for identification purposes (and will be held in confidence).