Back to Events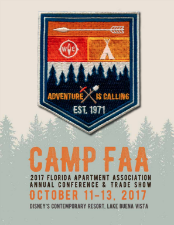 2017 FAA Annual Conference & Trade Show
* Registration open until 9/28/17 at 12:00 AM
Wednesday, October 11, 2017
to Friday, October 13, 2017
Event Details
The 2017 FAA Annual Conference & Trade Show, October 11-13, at Disney's Contemporary Resort* in Lake Buena Vista, Fla., is the state conference for the apartment industry. More than 850 multifamily housing industry professionals interested in sales, marketing, recruitment and retention, maintenance, career development, leadership, customer service, technology, and more will be inspired by the nationally renowned keynote speakers and breakout sessions.
Attendees can expect to make great connections and share insights on relevant and current hot topics within the industry during the many networking opportunities. The FAA trade show with 172 exhibit booths offers attendees innovative solutions firsthand from more than 500 knowledgeable suppliers displaying products and services that will put attendees in a position to gain market share and grow their bottom line.
Click here to learn about our keynote speakers.
Click here to review the 2017 exhibitors and trade show floor plan.
Stay tuned: Full conference schedule will be available online by late May.
Registering more than five people? Please contact rona@faahq.org for your online discount promotional code.
*Information to reserve discounted hotel rooms will be provided after your conference registration is confirmed. Any supplier who does not have an exhibit booth may register for the conference ONLY as a non-exhibiting supplier.
Agenda
October 11
8:00 AM - 5:00 PM
Exhibitor Setup and Registration
8:00 AM - 9:00 AM
Executive Committee Meeting
9:00 AM - 10:00 AM
Product/Service Council Meeting
10:00 AM - 12:00 PM
Board of Directors Meeting
11:00 AM - 5:00 PM
Attendee Registration
12:00 PM - 4:00 PM
Legislative Platform Meeting
7:00 PM - 10:00 PM
APAC Food, Wine, and Fireworks (ticketed event)
October 12
8:00 AM - 11:00 AM
Exhibitor Setup and Registration
8:00 AM - 5:00 PM
Attendee Registration
8:00 AM - 9:00 AM
Networking Continental Breakfast
9:00 AM - 11:00 AM
Opening Session: Disney's approach to Quality ServiceDisney Institute
11:00 AM - 2:30 PM
Trade Show Grand Opening and Luncheon(Lunch available 11:30 a.m. - 1 p.m.)
1:00 PM - 4:00 PM
AE Business Meeting and Workshop
2:30 PM - 2:45 PM
Afternoon Refreshments
2:45 PM - 4:15 PM
Educational Breakout Sessions
4:30 PM - 6:30 PM
The Maintenance Mania Experience
October 13
8:00 AM - 2:00 PM
Attendee Registration
8:00 AM - 9:00 AM
Networking Continental Breakfast
8:30 AM - 9:30 AM
Educational Breakout Sessions
9:45 AM - 11:00 AM
Educational Breakout Sessions
11:00 AM - 1:00 PM
Trade Show and Luncheon(Lunch available 11 a.m. - 1 p.m.)
1:05 PM - 8:00 PM
Exhibitor Tear-Down
1:15 PM - 2:45 PM
Educational Breakout Sessions
3:00 PM - 4:30 PM
Closing Session: Inside Eco-Challenge Lessons for Survival in Life and BusinessYvonne Camus
6:00 PM - 7:00 PM
Nan Caverretta Scholarship Fund Wine Tasting(Ticketed Event)
6:30 PM - 7:00 PM
Cocktail Reception
7:00 PM - 10:00 PM
Closing Celebration Dinner
For More Information:
Robert Carroll (Member)
CNPR
Association Executive
NCFAA
(352)333-0333