Back to Events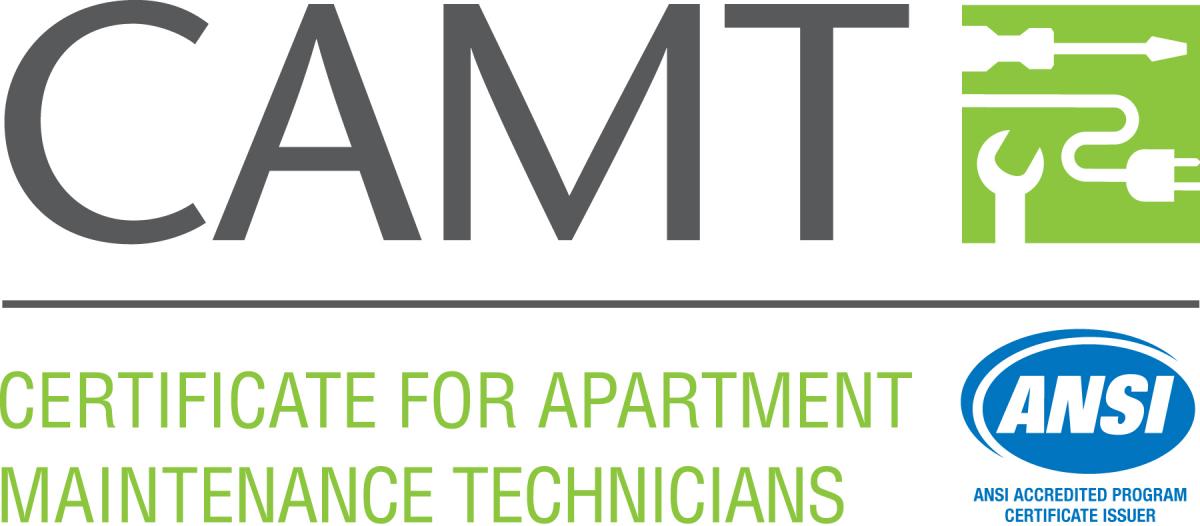 CAMT Course
Certificate for Apartment Maintenance Technicians
Tuesday, October 11, 2022
to Friday, December 2, 2022
Event Details
This program is designed both as an introduction for new maintenance professionals and as a refresher for the veteran employee, to give these professionals the knowledge and tools necessary to run an effective maintenance program. Maintenance expenses are the single largest controllable element in any operating budget. The CAMT program is 
accredited
 by the American National Standards Institute (ANSI), a private non-profit organization that administers and coordinates the U.S. voluntary standardization and conformity assessment system.
Certificate for Apartment Maintenance Technicians (CAMT) includes:
The non-technical Soft Skill course consists of online learning, including practice scenarios. Five technical courses consist of hands-on classroom training followed by online practice scenarios.


Non-Technical Course Modules:
Welcome to the Industry
Customer Service
Teamwork
Time & Project Management
Money Matters
Documentation & Paperwork
Maintenance & Emergencies
Safety First
Compliance
FranklinCovey Insights on Demand Online Courses
Technical Courses:
Electrical Maintenance and Repair
Plumbing Maintenance and Repair
Heating, Ventilation & Air Conditioning (HVAC) Maintenance & Repair
Appliance Maintenance and Repair
Interior and Exterior Maintenance and Repair
Class Schedule:

10-11 CAMT Starts (Electrical)
10-27 AC Repair
11-9 Plumbing Repair
11-16 Interior/Exterior Repair & Heating Repair
12-2 Appliance Repair
Programs may be taken as standalone seminars or in full to earn the industry credential.
Maintenance Licensing Bill (State):
Click here
to find a FAQ on the maintenance licensing bill (included as part of a code bill) that expands the scope of work a 
CAMT
certified maintenance professional can perform on HVAC and water heater equipment. The law took effect on July 1st, 2016.
CAMT Requirements
Certificate candidates must complete the following within 12 months of declaring candidacy for CAMT to receive the Certificate for Apartment Maintenance Technicians credential:
one year of apartment or rental housing maintenance experience; and
six courses and online content listed above (which totals 80 hours)
You must attend all of the classes to receive certification!
REMEMBER! IT'S THE LAW!
Only apartment community service professionals with a CAMT certification may perform repairs on HVAC & Water Heaters (up to $1,000 in parts).
We're excited to see you in person soon!  Because member and attendee safety is our top priority, we're taking the following safety precautions: 
Students seated a minimum of 6' apart

Contactless temperature check before entering building

Plentiful sanitizer throughout space

Masks required when not seated

Disposable masks free of charge available to attendees

High touch surfaces sanitized frequently

Team members will wear masks and social distance from members and each other.

Other measures, as appropriate

.
Don't Forget to Claim Your Digital Badge!
Once you have earned the CAMT credential, you will receive an email from ProExam Vault with an invitation to claim your Digital Badge, which allows you to market yourself as an apartment professional with valuable skills.

For More Information:
Robert Carroll (Member)
CNPR
Association Executive
NCFAA
(352)333-0333
Attendee Agreement
By registering and attending any NCFAA class, meeting, or event you are agreeing to our Safety Liability Agreement. As deemed necessary, additional requirements will be added below:
If you are sick, caring for an ill person, or may have recently been exposed to COVID-19 we ask that you stay home for self-quarantine. 
We will be conducting contactless temperature checks on everyone entering the venue.  Anyone found to have a fever will be unable to enter.
Face masks that

 

fully covers both the nose and mouth

 at all times are

 

REQUIRED.

 

We will provide one-time use masks to attendees that do not arrive with their own.
Wash your hands or use hand sanitizer often, especially after touching high traffic areas. 
**Communicable diseases such as COVID-19 can be highly contagious viruses that pose inherent risks that cannot be fully eliminated regardless of care or precautions taken. As such, by participating in classes, meetings, or events hosted by NCFAA in any facility you hereby assert you do so voluntarily and that by participating you knowingly assume any and all risks related to COVID-19 or other communicable diseases.