Back to Events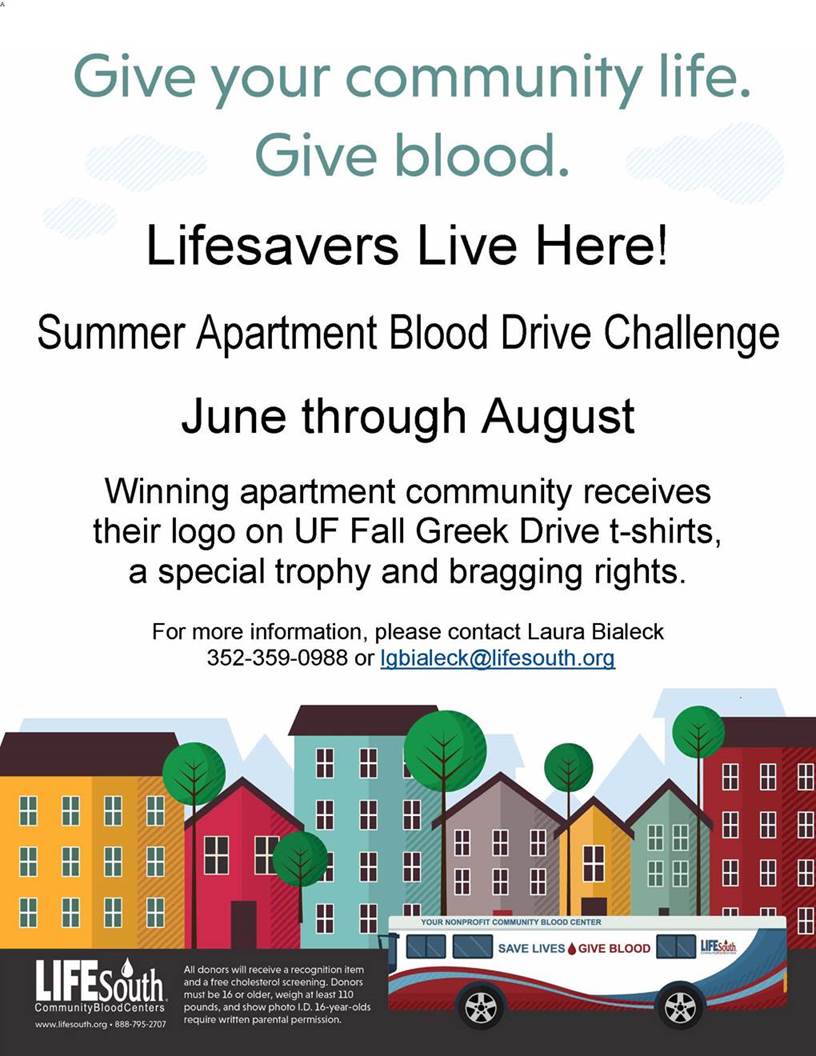 2018 Summer Apartment Blood Drive Challenge!
Deadline to Sign Up is April 20
Wednesday, April 4, 2018
at
12:00 AM (EDT)
to Friday, August 31, 2018 at 1:00 AM (EDT)
Event Details
2018 Summer Apartment Blood Drive Challenge!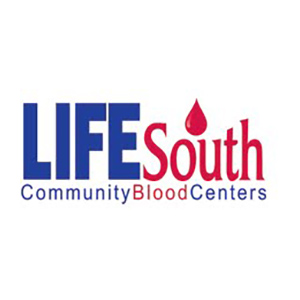 LifeSouth Community Blood Centers supplies 100 percent of the blood to hospitals in Gainesville, including UF Health Shands, North Florida Regional Medical Center, and Malcom Randall VA Medical Center. During the summer months, blood centers nationwide experience critical shortages. Although blood donations always decrease during the summer, the need for blood remains constant. Here in Gainesville, the situation is exacerbated further by our reliance on donors from the University of Florida and Santa Fe College, where enrollment is greatly reduced during the summer. In large part, we rely on the help of community-minded businesses to help in meeting the blood needs of our local hospitals

With the summer months quickly approaching, LifeSouth Community Blood
Centers is pleased to announce our 2018 Summer Apartment Blood Drive Challenge. The purpose of the Apartment Challenge is to team up with area apartments to make a lifesaving difference. LifeSouth would greatly appreciate your support in partnering with us for this event. The apartment with the most blood donations will win a commemorative trophy and have their logo printed on the back of 1,500 T-shirts for our Fall Greek Blood Drive! Second and third place winners will receive a commemorative certificate. All participating apartment communities will have their apartment name on a special t-shirt for the promotion. Competition results will be based on the number of
actual blood donors on the bloodmobile on the day of each apartment's scheduled drive. Blood drives must be held during the months of June-August to participate in the challenge.

The deadline to sign up for the challenge is April 20. Hosting a blood drive is a
great way to show your support for your community, create a team-focused activity, and help patients in our hospitals who need blood! I hope to hear from you soon.

Thank you,

Laura
352-359-0988
lgbialeck@lifesouth.org

Your non-profit, community blood center serving hospitals in Florida, Alabama and Georgia.
www.lifesouth.org · 1-888-795-2707
For More Information:
Robert Carroll (Member)
CNPR
Association Executive
NCFAA
(352)333-0333